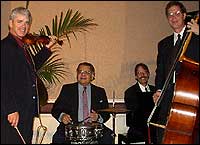 "I want to tell you how much our group enjoyed the Larkspur Strings. The musicians strolled around the area and played requests which the guests enjoyed. I heard many complimentary remarks about the music - they were a great addition to the reception."

Marje Ryerson, Twin Cities Home Economists in Business
Larkspur Piano Quartet
is a four piece group consisting of violin, piano, string bass & drums. Great jazz music seeks to surprise and delight the listener with new approaches to the art. Larkspur's Piano Quartet combination of romantic ballads, cool swing and hot Be-bop will do just that.

The following combinations are also available: solo violin, solo fiddle, solo harp, solo piano, harp & flute, violin and guitar, solo mandolin, mandolin & guitar, fiddle, guitar and bass.